About establishment of Braizon Therapeutics, Inc.
- Creation of revolutionary medical innovation applying drug delivery technology to the brain -
Dr. Kazunori Kataoka, COINS Research Leader, (Director General of iCONM , Professor, Policy Alternative research Institute, The University of Tokyo), Dr. Yasutaka Anraku, Sub Theme 2 Leader, (Project Assistant Professor, Graduate School of Engineering, The University of Tokyo, Guest Scientist, iCONM), Dr. Takanori Yokota, Professor of Tokyo Medical and Dental University and Dr. Hiroya Kuwahara, Project Assistant Professor of Tokyo Medical and Dental University Et al. succeeded in developing "BBB-crossing nanomachines which enter the brain via a systemic route and this research result was published in "Nature Communications (UK scientific journal)" on Tuesday, October 17, 2017.
Braizon Therapeutics Inc. develops this research result as a drug discovery fundamental technology up to the practical level and aims to deliver drugs and diagnostics to patients of cranial nerve disease as soon as possible through technical licensing and drug discovery alliance to pharmaceutical companies and diagnostic drug companies.
Click here for release document.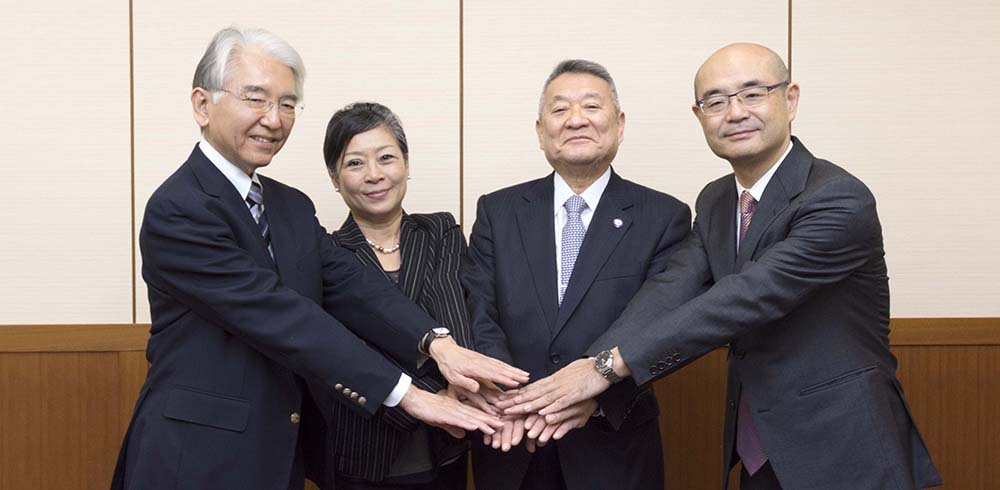 Takanori Yokota, Professor, Department of Neurology and Neurological Science Tokyo Medical and Dental University (Right)
Yasuyuki Yoshizawa, President, Tokyo Medical and dental University (Center right)
Mariko Tosu, P Representative Director & CEO, Braizon Therapeutics Inc. (Center left)
Medicine/ Project Professor, Policy Alternatives research Institute, The University of Tokyo (Left)