About COINS
COINS(Center of Open Innovation Network for Smart Health)is a research center of an entirely new idea for developing "products and services that changes the future"by anticipating social needs in the future and integrating cutting-edge technologies, human resources and ideas from universities and private companies in and outside Japan.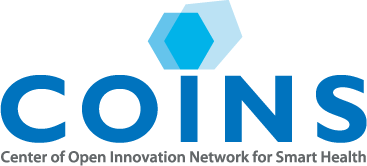 COINS is an initiative under the Center of Innovation Science and Technology based Radical Innovation and Entrepreneurship Program (COI STREAM) of the Ministry of Education, Culture, Sports, Science and Technology, Japan.
"COINS"also implies being a center of frequent "coincidences"and many people in the world not needing bills but "coins"to have an access to medical service. The hexagons above the "I"in the logotype represent mutually overlapping wings, connoting "creation of new values and innovation via integration of different fields,""butterflies gathering to Haneda Airport (which is in the vicinity of the center) and flying to all parts of the world,"and "smoke of innovation rising from a smokestack, symbolizing changes in the Keihin Industrial area.
Characteristics of COINS
Development of disruptive innovative solutions by open innovation facilitating collaboration and co-creation
Back casting from the identified social needs on health and medical care
Creating new gold standards with private companies and universities collaborating to fuel innovation and develop leadership skills for the new millennium
Six approaches to actualize "In-Body Hospitals"
Innovative project management system
System independent from universities to manage the center
R&D under a single roof at iCONM
Activities toward smooth implementation in society
Regulatory reform to enhance transformative business model development
Launch of a number of venture corporations to holistically magnify impact: circulate people, goods and money
Close cooperation with local governments and communities