6th COINS General Meeting Held on Friday, June 3, 2016
The 6th COINS General Meeting was held in the large conference room at the Life Science & Environment Research Center (LiSE) on June 3, 2016. All affiliated institutions attend the meeting, which is held semi-annually.

Presentations were given by each theme leader and affiliated institution regarding the implementation of results attained in Phase 1 (2013-2015) of the COI Program headquarters under the theme of "What We Should Do Towards the Realization of a Hospital Inside the Body in Phase 2 (Declaration of Resolution)."

The report given by Kawasaki City was primarily regarding the future outlook and activities with the aim of the generation of sustainable innovation, and the report given by the research promotion organization detailed the current status of compliance maintenance of both the organization and foundation.

Moreover, there was an active exchange of information regarding the 29 posters presented at the research results poster session.

In the run-up to Phase 2 and the realization of "a hospital inside the body," the meeting strengthened our bonds of unity, and was incredibly fruitful.
Opening address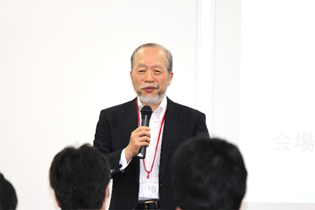 Presentations given by each institution
There was active discussion

Poster session

Advisor review

Closing address

The venue

The reception